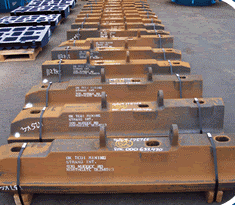 Bradken has agreed to a takeover bid by Japan's Hitachi Construction Machinery (HCM) in a deal analysts say may indicate the worst of the mining downturn has passed. Yuichi Tsujimoto, HCM President said his company believes Bradken's "businesses are complementary with our mining equipment services business. Both companies leveraging each other's global network will enable us to strengthen our combined businesses and enhance our earnings."
"Bradken's staff have worked very hard to reposition the business for success following the downturn in mining," said Paul Zuckermann, Bradken CEO.
Bradken describes itself as "a leading global manufacturer of differentiated consumable and capital products to international markets, supplying an extensive range of cast and fabricated products through four market focused divisions and an independently branded business."
These five are Mining & Transport, Fixed Plant, Mineral Processing. Engineered Products and the independently branded, Cast Metal Services. Bradken is well-known for its wear parts in mineral processing and ground engaging tools.